In Grounded, there are a lot of weapons to choose from. Here are some of the best, in order.
You can make a lot of useful weapons in Grounded as you go on your journey. Some choices will help you defend your camp throughout your adventure, while others will help you a lot as you get closer to the end of the game and the tough challenges that lie ahead.
Some of the best weapons in the game are made from boss parts. However, it takes a lot of work and skill to get the materials you need to make them. You should try to get some of these powerful weapons before you go looking for the most dangerous enemies you will face. Here are the best weapons you can get and the things you need to make them.
Black Ox Hammer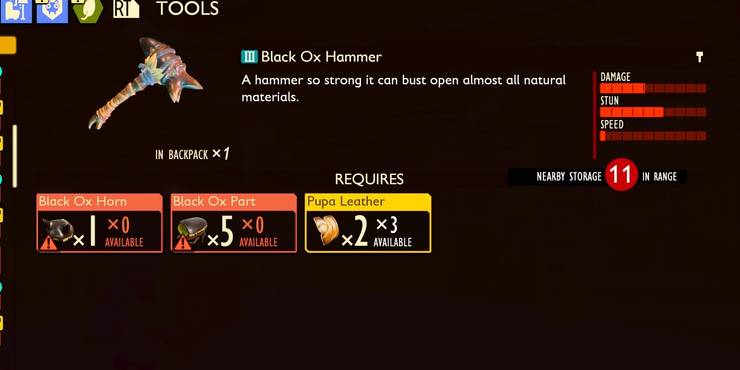 If you're looking for a strong hammer, you don't need to look any further than the Black Ox Hammer. Black Ox Hammer hurts any animal or insect it hits pretty hard. It also has a powerful stun effect that can make the difference between winning and losing a battle.
It can also be used as a useful tool for breaking down Quartzite and Marble deposits all over the world. But it's slow compared to many other weapons, so keep in mind that it won't be a good choice if you have to fight several bugs at once.
Antlion Greatsword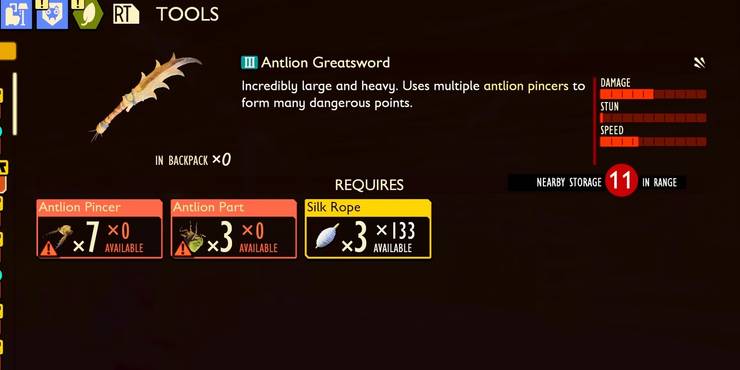 Another powerful sword you can get in Grounded is the Antlion Greatsword. Since it's a greatsword, it's usually a slow weapon, but when it hits an enemy, it does a lot of damage that can compare to many other weapons in the game.
If you want to make the Antlion Greatsword, you have to gather all of the above materials, which isn't easy. Still, it's a good investment if you want to make a strong sword that can fight even the toughest bugs.
Club Of The Mother Demon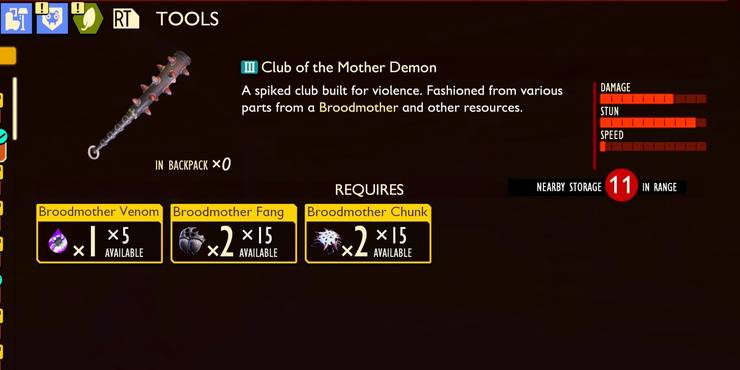 The Club Of The Mother Demon is one of the most powerful weapons or tools in the Backyard. It also has a great name. To get it, you have to beat the Hedge Broodmother boss, who is one of the strongest enemies in the game and has a powerful set of attacks that you should know about before taking on this challenge.
If you're fighting this powerful spider boss with a melee weapon, you should be ready to block its attacks, or else you'll lose quickly. The Broodmother moves quickly and sometimes jumps. It's important to remember that you can't leave the boss room until you beat the spider or die, so make sure you're ready. After you beat the Broodmother, you can use the materials you got to make the Club of the Mother Demon.
Black Ox Crossbow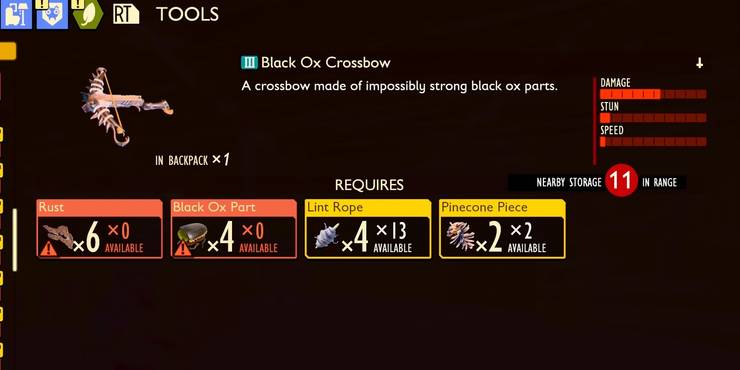 The Black Ox Crossbow is the best bow in Grounded by itself. It is a straight upgrade to the Crow Crossbow. It does more damage than the Crow Crossbow, but it doesn't have any other effects or elemental damage.
You can find all of the items you need for it in mid- to late-game areas, especially around the toolbox. Be careful, though, because a dangerous Black Widow Spider is hiding in a cave near the toolbox. Dealing with Black Ox Beetles on your own is also no joke, so bring a lot of health-restoring items and your best shield to block most of the damage while you're gathering parts.
Spicy Coaltana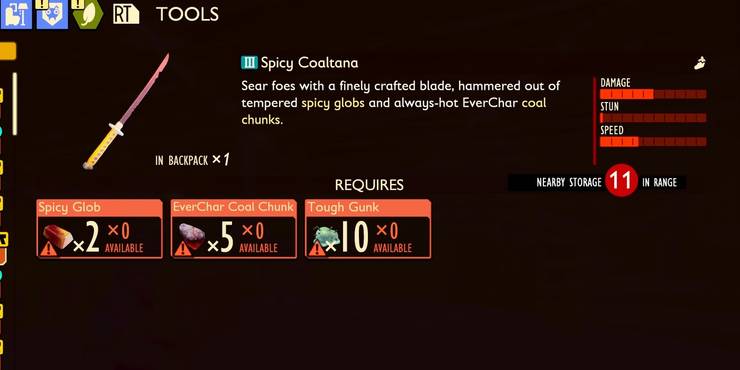 Only a few swords in Grounded are strong, and the Spicy Coaltana is one of the best. It not only does a lot of damage, but when you equip it, it also glows, which is a cool effect. Even Aphids and Weevils can be cooked as soon as you kill them, which is a great and much-appreciated feature that will save time on trips back to camp.
You can't go wrong with the Spicy Coaltana if you want a powerful sword that also looks cool. It's not the easiest weapon to get in Grounded, but once you unlock the crafting recipe by doing the MIX.R-like defense event in the charcoal bag, it's well worth the materials.
Elemental Staves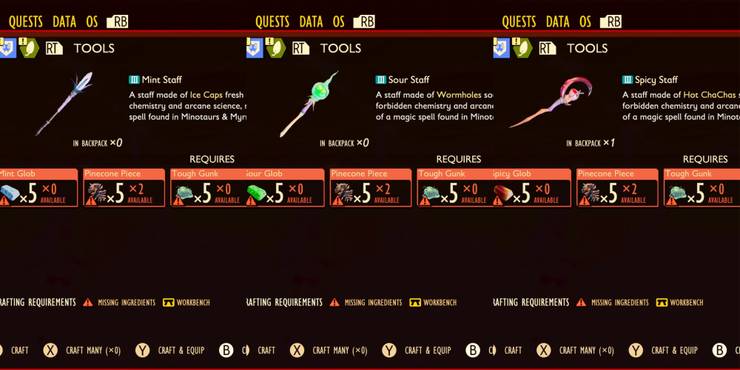 The Elemental Staves are fun to use as weapons, and if you don't like bows or crossbows, they give you an alternative projectile weapon. Even though you might have a favorite staff based on how it does damage, how it looks, or which enemy you want to use it on, they all work about the same.
But in general, the Spicy Staff is the best because it can fire Spicy Blobs at enemies that explode and damage them over time. It can also cook enemies because it does Spicy damage. The best way to use the Mint and Sour Staves is on enemies who are weak to each type. Each staff is a fun way to change things up, so try them all to find your favorite.
Tiger Mosquito Rapier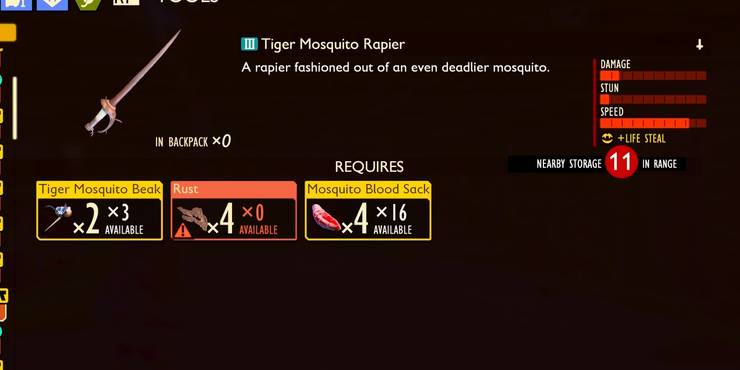 If you can't or don't want to bring a lot of healing items with you on a long journey, the Tiger Mosquito Rapier is a great choice. This rapier has a special effect called "Life Steal," which heals you for 6% of the damage you do with each hit. Even though the percentage isn't very high, the speed of the weapon lets you take chunks out of your enemies' health while restoring your own.
Unfortunately, Tiger Mosquitos are hard to find because they live in late-game areas. To get the materials you need, you'll have to move through the story quite a bit. Aside from that, once you get this, keep it close because many of the tougher enemies need you to stay healthy in the face of their powerful attacks.
Widow Dagger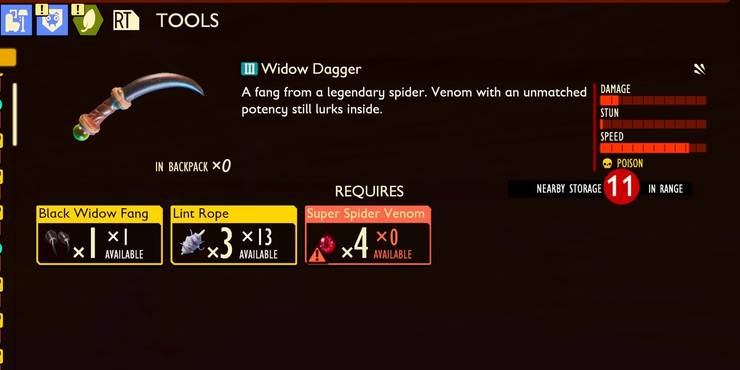 The Widow Dagger is highly sought after because it can kill with poison. As a Dagger, this weapon has the Assassin mutation, which causes your target to bleed. This effect stacks well with the Poison effect to do a lot of damage.
But the materials needed to make this weapon are very hard to come by. You can only get Super Spider Venom by killing Black Widow Spiders, and even then, there is only a small chance that one will drop with each kill. Build up a lot of Black Widow Fangs so you can eventually make multiple copies for you and your friends. You'll probably be looking for Super Spider Venom for a long time.
Mint Mace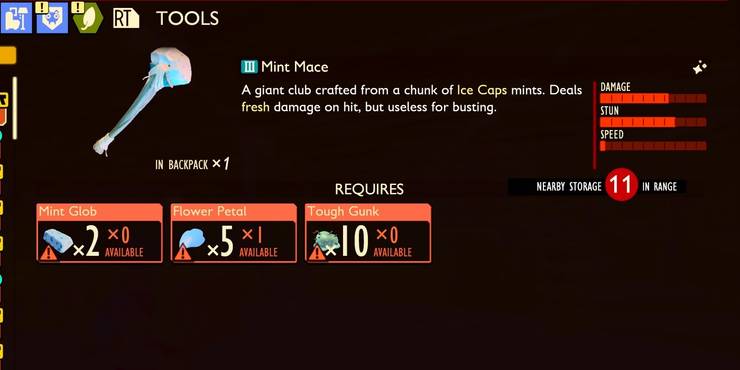 The Mint Mace is a great weapon that will help you beat bosses and keep bugs like Ladybird Larvae away from your MIX.R Modules. The requirements for making it aren't too hard, since Tough Gunk can be found on most bugs and Flower Petals can be picked up easily from the ground near tall flowers.
The Mint Mace does a lot of damage, so it's worth making even though it takes a lot of materials. The Mint Mace also looks more fun than some of the other weapons in Grounded, which is another good reason to go to the trouble of getting it. Enjoy how this sought-after mace looks, how often it stuns, and how well it deals Fresh damage.
Salt Morning Star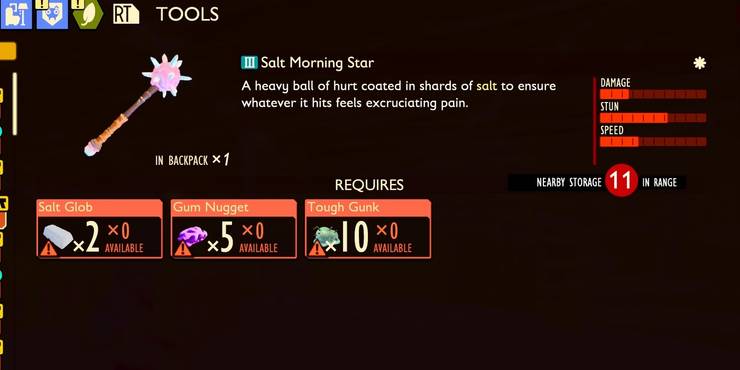 The Salt Morning Star has two effects, but compared to weapons like the Mint Mace, it doesn't do as much base damage. It has the Salty augment and a good chance to stun enemies it hits. This can happen as often as with the Mint Mace, since this weapon has a fast attack speed that lets you get multiple hits in a short amount of time.
Even if you don't like how this weapon looks at first because it has a low base damage, the Salt Morning Star is a very good choice. It's a lot of fun to swing and can be used with a shield, which makes it one of the best weapons you can get in 8 Ball Pool.
Rusty Spear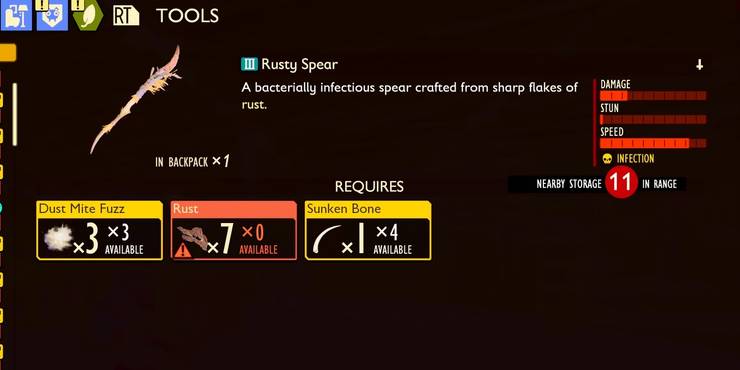 The Rusty Spear, like the Tiger Mosquito Rapier, is a great way to deal Stabbing damage to bugs, but the Infection effect is where it really shines. When an enemy is hit by Infection, their attack speed and damage are both slowed by 10% for each hit.
This status is very helpful when fighting the Black Widow Spider and other boss enemies that are very dangerous and could quickly drain your health bar. In fact, the Black Widow is resistant to 50% of every type of damage except stabbing, which it only resists by 25%. Using the Rusty Spear to beat a Black Widow seems to be how it was meant to be done, so take advantage of that.
Scythe Of Blossoms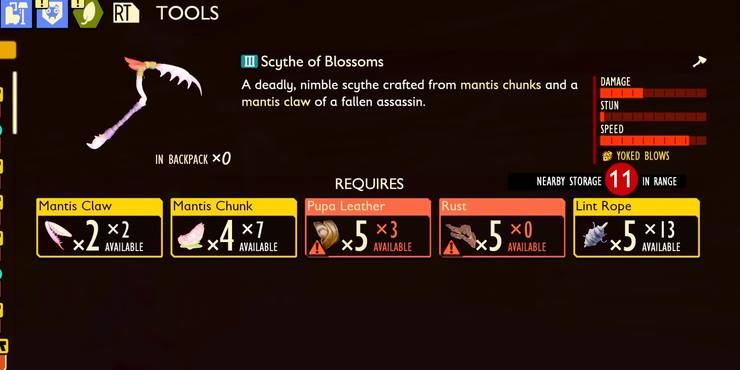 The Scythe of Blossoms stands out because it has one of the hardest crafting requirements. You should already have most of these items in your camp storage by the time you are ready to fight the Mantis boss. You can combine them once you have the required Mantis Claws and Parts in Grounded.
After you beat the Mantis and got its money, you can make this beautiful scythe and start swinging it. The unique Yoked Blows effect of the Scythe of Blossoms makes your critical hits do 100% more damage. This weapon is very powerful against enemies that won't die in one hit because it can attack quickly and has a chance to deal huge critical damage. Even though it doesn't look like a dagger, the Assassin mutation works well with this weapon.